The Price of Titanium is Stabilizing, But Future Prices Remain Low
The Price of Titanium is Stabilizing, But Future Prices Remain Low
Titanium is a material used in everything from photocatalysts, pigments, and strong, corrosive-resistant alloys. It is well-distributed throughout the Earth's crust, but it is rare. Because of its usefulness and rareness, titanium became a highly traded commodity all over the world. However, the price of titanium, surprisingly, was on a steep decline from which it is just recovering.
Titanium is particularly popular in the construction industry; about ninety percent of the output in the world is used to make titanium dioxide to include in pigments and ceramics. When the real estate markets in Europe and the United States crashed, the demand for titanium plummeted.
Titanium prices reached an all-time high in 2011 that encouraged producers rev up production at the same time major housing markets—like China—were starting to cool down. Prices sank like a rock; the industry was suddenly producing too much and flooding the market.
In some countries, such as Vietnam, where the titanium industry has flourished, but local infrastructure and markets are weak, the low prices have had a major effect.  Nguyen Thong data, deputy chairman of the Vietnam Titanium Association, told reporters on August 19 that export prices of limonite and rutile, titanium processed products, have plunged to US$60-100 per ton.
Related: Is Titanium Target Price Still Expensive?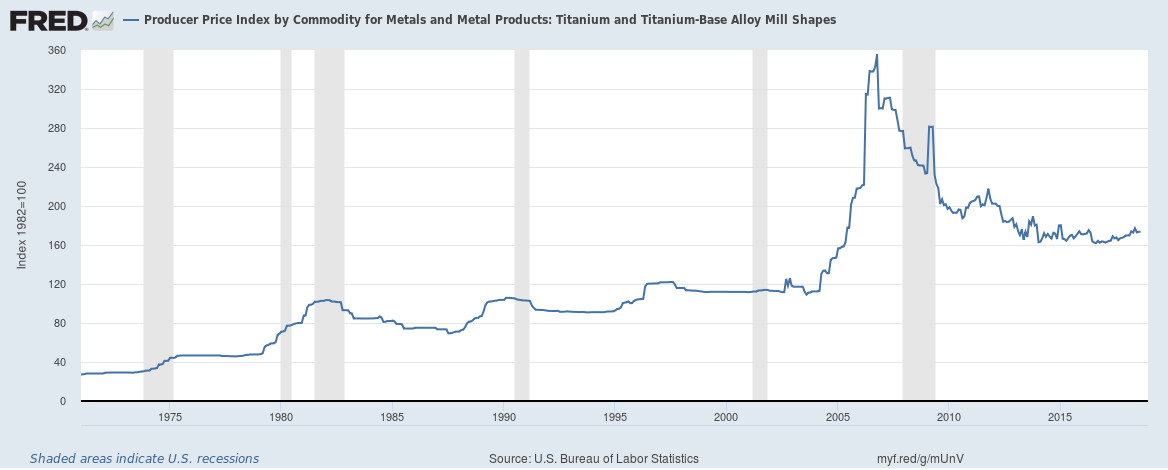 "With those selling prices, enterprises earn no profit after paying charges and production costs. Therefore, nearly 90% of 70 titanium mining and processing plants with a combined output of nearly one million tons per year have stopped operations," Data said and added that around 70% of the employees in the sector have lost their jobs. Approximately 50% of the Vietnam's titanium products are exported to China, the rest is shipped to Japan, the United States and South Korea.
In order to try to stabilize prices, Titanium producers are running down stockpiles to balance production and demand. Whether or not this will help prices rise in the future is suspect, at least to some. Eric Link, a specialty-chemicals analyst at IHS Chemical in Santa Clara, California says that the outlook for titanium dioxide is "nothing spectacular." He expects demand for titanium dioxide to recover with the U.S. and European real estate markets, since both old and new buildings need paint. "Prices will probably remain pretty stable, with most coatings companies looking at a 3% to 4% price increase [in titanium dioxide] over the next three years," he says.
Still, as long as supplies remain plentiful, prices are likely to muddle along at current levels for the rest of 2014, says Christopher Eccles tone, a metals and mining analyst with Hallgarten in London.
"There's either not enough of it, or there's too much, but there's no happy medium in titanium," Eccles tone says.
For more information about titanium and other advanced materials, please visit http://www.samaterials.com.